REAL MORAVIA Estate Agency
www.realmoravia.cz
[ good website in English ]


About REAL MORAVIA:
Network of real estate agencies REAL MORAVIA
The company REAL MORAVIA ltd. is headstone of network real estate agencies that work under a franchise concept in the region of Moravia and Silesia and also with branch agencies in Prague.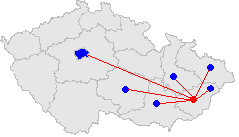 REAL MORAVIA follows high professional standards of realty services mainly in residental living, family houses, recreation and flats.
At the moment we cover the region Moravia and Silesia with our cooperative agencies and our objective is to cover all regions, and to have an agency in every county town.
The company owns licence for executing voluntary auctions out of court execution and is a full member of the Asociation of real estate agencies Czech Republic (www.arkcr.cz).

Philosophy of company
Our philosophy is to work DISCRETELY and SERIOUSLY, to be a fully qualified guide - real estate agent - in the best meaning and to lead customers securely through the difficulties in purchasing, renting or selling property.
History of company
The real estate company REAL MORAVIA ltd. with firm domicile in Uherske Hradiste was found in December 1999.
Its founder, representative and 100% owner is Miroslav Turecky.
Miroslav Turecky, born 1954, married, two children, living in family house, education - high economics school, participant to many intensive courses provided by the Asociation of real estate agencies and by the company Economia a.s. Praha,
Also participant in a course provided by the asociation of real estate agencies in USA, and barchelor course in specialized Commercial law.
His first real estate agency was opened in April 1994 in Uherske Hradiste, first branch company in June 1995 in Trencin (Slovakia).
In January 2001 the franchise concept was created and continues to be developed.
Finding the right partners is priceless
Not looking for the right partners may be pretty costly