Maxima Real Estate Agency in Prague
http://www.maximareality.cz
[ website in English - probably the biggest real estate agent in Prague]

MAXIMA REALITY, s.r.o.
Washingtonova 5,
110 00, Prague 1,
Tel: 00420 - 14 0 10
Fax: 00420 - 221 110 555
e-mail: info@maxima.cz

Allow us to introduce our company and present the complex portfolio of services in the branch of real estates that we render.
MAXIMA REALITY was founded in 1996 without a basis comprising of any foreign capital or loanable funds.
Our principal objective has always been to create an active, vigorous company providing high-quality services for our customers.
High-quality services focused primarily on the satisfaction of customers presenting their offers and demands, comprehensiveness and a wide-ranging scope of services, an ultimate level of professionalism, willingness to please and an impressive speed of rendered services have helped us become one of the most significant estate agencies operating on the Czech market.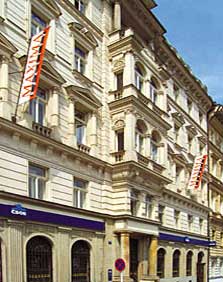 We offer an extensive portfolio of real estates, negotiate inspections of selected premises, render advisory services free of charge and also provide complex legal services.
It goes without saying that we have a personal approach to all of our clients as well as a high-quality professional background pertaining to the conclusion of contracts (contracts of lease, sublease or purchase, or agreements on the transfer of membership rights and obligations - in the case of cooperative flats).
Our brokers assist you in the selection of the most appropriate real estate property while our legal department elaborates respective contracts, provide all required documents and settle all formal issues.
Last but not least, as our client you become entitled to present your real estate property on our Internet website and in our "MAXIMA MAGAZIÍN" free of charge
Finding the right partners is priceless
Not looking for the right partners may be pretty costly