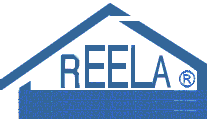 Reela - Plzen Real Estate Agency
www.reela.cz
[ English website - vast choice of real estate images and prices - also have agencies in other regions ]
Nemovitosti REELA s.r.o.
Husova, 13
301 00 Plzen
Tel: - Fax: 00420 - 377 440 861

Mobile: 00420 - 420 777 753 199
Infoline: 00420 - 800 167 224
e-mail: plzen@reela.cz

Profile of our firm
Nemovitosti REELA, spol. s r.o. is a company with long-term experience and knowledge of the real estate market in the West Bohemia region.
The history of its foundation dates back to the year 1990, when the estate company Reela was established.
The company obtained the reputation of being an experienced and respectable real estate company, and this laid the foundations for the creation of the current company Nemovitosti REELA spol. s r.o.
The objectives of our company have never been small, and we can state that we are able to meet them satisfactorily. Within a short time we have become one of the biggest and most in demand real estate agencies in West Bohemia.
A brief review of our growth:
1992
Nemovitosti REELA spol. s r.o. was established
The company moved to its own building in Plzen.
Along with another 16 estate agencies, the company established the Real Estate Association of Bohemia, Moravia and Silesia
(in Czech ARK CMS)
Daughter companies were established
Nemovitosti REELA Tachov s.r.o.
Nemovitosti REELA Strakonice s.r.o.
1993
Branches opened in Kralovice and Domazlice
Foundation member of FIABCI CR
Foundation member of the 1st real-estate exchange of South-West Bohemia
Entry into the Economic Chamber Plzen
1997
Branch opened in Stríbro
2000
Nemovitosti REELA obtained a license deed for the execution of public auctions and realises the first public auction in West Bohemia
2001
Branch opened in Mariánské Lázne
Established affiliated company Naxos Plzen Aukcní sín, a.s., specializing in public auctions
Issued 1st issue of monthly REELATIP magazine
(number of copies 30 000 per month)

REELA spol. s r.o. is member of the Real Estate Association of Bohemia, Moravia and Silesia, Economic Chamber in Plzen (ARK CMS), 1st Real estate exchange of South-West Bohemia.
The founder of the company ing. Bedrich Chaloupka worked for many years in the management of ARK CMS, and the Economic Chamber in Plzen.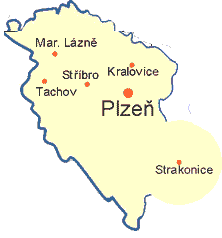 Our main activities:
- mediation of purchase, sale and rent of properties
- public auctions according to the Act No. 26/2000 Coll.
- public tenders and competitions for the sale of properties and enterprises
- acquisition activity for investors
- consultancy in buying and selling properties
- administration of commercial properties
To provide maximum guarantees to our clients, our company has a liability insurance for damage caused in running of our estate and auctioning activities.
The volume of realised sales is proof that our company belongs among the biggest estate and auction agencies.
For the time period from the year 1992 to the end of 2002 we sold properties and enterprises to the total value of 1 790 000 000,-CZK.
The main focus is laid on the satisfaction of our clients, our reputation, workmanship, and credibility.
It is also of great importance to introduce our daughter company, NAXOS Plzen Aukcní sín, a.s., located at the same address.
In 2001, this company was detached from the company Nemovitosti REELA spol. s r.o.
The main mission of this company is to carry out public auctions and tenders in co-operation with affiliated companies Aukcní sín NAXOS, a.s. Praha, Ostrava, and NAXOS Brno aukcní sín, a.s. Hradec Králové.
By this interconnection we are able to effectively offer auctioneer's services throughout the Czech Republic.
Close relationships between the companies Nemovitosti REELA spol. s r.o. and NAXOS Plzen Aukcní sín a.s. enables us to be a sought after partner for a wide number of clients, and ensures us a high success rate within the entire region.
We are prepared to render our professional services to you at any time.
Finding the right partners is priceless
Not looking for the right partners may be pretty costly