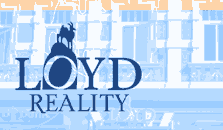 Loyd Reality - Karlovy Vary Real Estate Agency
www.loyd.cz
[ Site in English ]

Loyd Reality s.r.o.
Moskevská 10
360 01 Karlovy Vary
Tel: 00420 - 420 353 222 227
00420 - 353 222 244
00420 - 602 145 144
e-mail: reality@loyd.cz
Real estate in spa town of Karlovy Vary (Carlsbad)
Loyd Reality spol. s r.o. is a real estate agency active in the spa of Karlovy Vary (Carlsbad), Czech Republic.
It has more than 13- years of experience during which we have mediated over 1,000 successful purchases of real estates to the full satisfaction of all clients.
We offer over a hundred first-rate real estates from flats to hotels
and will be pleased if you become one of our clients, either as a buyer or a seller through our real estate agency.
An English speaking agent will be pleased to present you our offer of real estates in the city of Karlovy Vary.
We look forward to your contact,

Why are we different from many other real estate agencies:
• 13 years of experience
• over 1,000 sold real estates
• pleasant, professional and language competent personnel
• over 2,500 clients interested in purchase of real estate
• representation in Prague and Germany
• contacts to real estate agencies abroad (EU, U.S.A., Russia)
• first-rate Internet promotion
We use the state-of-the-art digital promotion, such as virtual photographs and video shows.
We publish a real-estate newspaper, distributed into 25,000 households
We help to complete all formalities of the deal, starting from appraisals to the tax declaration
Finding the right partners is priceless
Not looking for the right partners may be pretty costly