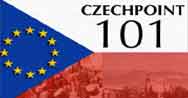 Czechpoint 101 - Relocation, real estate, visas, work permits
[from their website ]...
"We help clients one-on-one to invest, setup a business, relocate
and buy property in the Czech Republic."
Nathan Brown, Owner

News: Czech Point 101 opens office in Prague

Planning on Relocating to or Buying Property in the Czech Republic ?
You Need a Trusted Team Looking Out For You
What makes our office unique is the personal attention we provide to each client.
When you call our office you speak with real people in plain English.

We Can Help You:
* Purchase Czech real estate and property
* Establish a local business presence, called an S.R.O.
* Comply with local business and personal tax requirements
* Acquire visas and health insurance for yourself and family members
* Avoid investment fraud (still a common problem for foreign investors)
Czech Republic is an expanding and affordable market that is gaining much attention on an international level. Perhaps even you are considering moving here, buying property or starting a business.