Map of Real estate related
service throughout the Czech Republic
This is the main map of the Czech Republic.
You can click on each region to find Real estate agencies
offering their services in that area.
For Prague City you have to click the red spot.
Or you may click on the links in the left navigation index.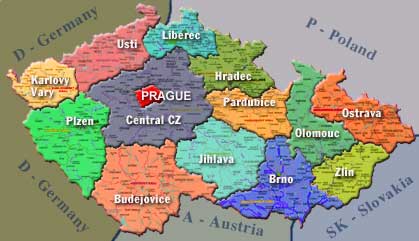 The real estate agencies, intermediaries, property legal services etc. displayed in this website are divided into regions and main Town sectors of the Czech Republic.
Although Prague is in the central region of the Czech Republic, both Prague and the central region have been assigned a separate sector each.
To see services in Prague click on the red dot of Prague. Clicking elsewhere in the central region will open results for agencies and services in the central region of the Czech Republic which are about 30+ km distant from Prague.
Each other region will also open independently.
Becoming informed costs next to nothing
Being missinformed can be expensive